Dijon 1974
(VSCC members and their old racing cars are much in demand at 'Retrospectives' on the Continent, and here is an account of one held in France in 1974. The Tipo 33 Alfa Romeo referred to is the mid-engined sports racing cars, extant 1969 - 1975. The author of the article, Trisha Pilkington, runs the Totnes Motor Museum (1970 - 1998) with her husband, Richard, and they have both taken part in VSCC events for many years, notably in Alfa Romeo, Talbot Lago, Cooper-Bristol and Voisin cars. Trisha once elected to drive the Cooper-Bristol at our Curborough Speed Trials in bare feet. Extensive searching of the RAC rule book revealed that they had quite neglected to legislate against this contingency, so Trisha was allowed to compete discalced, as it were.)
On 7th July, 1974 the French Grand Prix was held at Dijon, a small and hitherto untried Grand Prix circuit. The exciting main attraction for many people at this event was the Rétrospective des GP de l'ACF, consisting of one of the most exhilarating collections of cars and people ever gathered together and representative of GP wins 1906 - 1967. Full credit for the organizing of this superb event must go to Philip Morris, better known as Marlboro (who virtually rebuilt the circuit) and the wizard administrator Baron de Graffenried, without whom the event could not have taken place.
Mercedes and Alfa Romeo were in profusion, there five and four respectively. It was interesting to find the Alfa 'mechanics' were the young and agile figures of Sanesi, Ramponi, Guidotti, Zanardi, Chinetti and Taruffi who were to be seen loading, unloading, towing, pushing, driving, etc. With much Italian gesticulation they managed to have all the Alfas running, including the 1924 P2, running for the first time for nearly 50 years. A recent engine overhaul had revealed that the clutch was missing and, to prove that not everything changes, the P2 was fitted with a Tipo 33 clutch which was found to be almost identical. Much work had been done on this car for the event and credit should be given to Luigi Fusi for its eventual re-appearance. Fusi was to be seen always discreetly in the background with his briefcase crammed with his original drawings of the P2, work executed by him under Jano who had occasionally looked over his shoulder with a suggestion - a briefcase with a fortune of history. Colombo was also there but without portfolio. Sanesi was seen on one occasion with an aerosol of red paint, frantically spsraying the front of the 159 which had been dented by the rear end of the P2 when it jumped its bindings on the Alfa transporter. Unlike Alfas, Mercedes did not expect its drivers to do the mechanicing and there was much opportunity for jollity as Von Brauchitsch, vying with Taruffi for the greatest white head of hair, Hermann Lang and Hans Geier assisted by Neubauer, organized their cars. The sight of Von Brauchitsch in his 1938 Mercedes coming rapidly over the brow of a hill was almost indescribable and made possible by the fact that he is on the Olympic Committee of East Germany and was, therefore, able to obtain a visa. He received a standing ovation.
The honour of a standing ovation was also accorded to Prince Bira who had been unexpectedly met at an airport by Baron de Graffenreid, and where many have failed over the years, he succeeded in persuading Bira to attend the reunion. Bira's initiation was at a dinner party designed for the mechanics but accidentally attended by Lord Montagu, Count Lurani, Prince Bira, John Rowley and Richard Pilkington (all of whom were certain that everyone else had gone to the wrong party!) However, all the missing links were returned to the main dinner party where Bira was received with the greatest joy and he seemed so overwhelmed and pleased to be amongst the Anciens Pilotes that it is to be hoped he will be seen again away from Siam.
Hans Stuck was there with his son and passed many nostalgic hours with Prof. Eberan Eberhorst and Müeller who attended with the 1939 Auto Union. The Auto Union was apparently on show in Italy at the outbreak of war, but due to the various upheavals of that time, ended up in Czech…., but only in the display form, sadly without most of the large moving parts inside the motor. A long and fascinating huddle took place between Eberhorst and Count Hubertus Dönhoff who currently owns the crankless Auto Union - many useful ideas were hatched over a bottle or two of wine.
Phil Hill joined in most of the celebrations; incidentally, in his many years of motor racing he never broke a bone or drew blood. Stirling Moss managed to increase his tan by the swimming pool and Denny Hulme and Jackie Stewart put in a brief appearance, mainly on the circuit, where Stewart processed in the car described as the 1907 Fiat. The difficulties of vintage motoring being highlighted when he was refused a drive of the Fiat due to his inexperience. Hulme was seen at the wheel of a modern Repco Brabham and Moss had the 1960 Cooper which let him down slightly by having to be pushed and then worked on on the Grid. Phil Hill managed to persuade Paul Grist to let him share the demonstration laps in his beautiful 1922 Sunbeam.
Louis Chiron drove a Bugatti and was seen in the paddock in his original blue overalls, same round-eyed goggles and linen helmet, he even had on his original socks and shoes which have seen many hot pedals with 14 participations and four victories in French Grand Prix. Chiron was understandably in tears. The only other person to have had four victories in French GP was Fangio who had been expected but was sadly unable to attend.
It was difficult to decide which car Maurice Trintignant should drive as he had competed in seven different cars, a greater variety than anyone else, with as many as 13 participations from 1951 to 1963. Eventually it was settled that he drove the 1953 Ferrari.
Phi Phi Etancelin, as ever proud of his having been an independent driver throughout his career, had his traditional back to front cap but it was Pilette who drove the Talbot and in true Talbot fashion both Pilette and Richard Pilkington, who shared the narrow cockpit, managed to burn their arms on the rear tyres.
Madame Junek was visibly thrilled at being present and delighted everyone with her dances and shouts of delight. Brian Lewis and Tony Brooks, Paul Frere and Villoresi also joined in the demonstration and festivities, not least of which were the reminiscences, joys and sorrows of days gone by. The wives of all these great drivers should also be mentioned for many of them were at Dijon, often with more reliable memories than their husbands, and without them many of the drivers would not have been the wonderful people they are.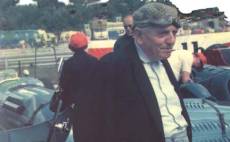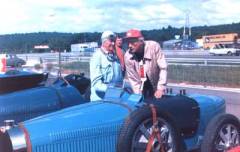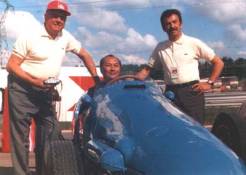 Phi Phi Etancelin, Louis Chiron, Mr and Mrs Etancelin, Prince Bira