DONINGTON GPE - also know as Grande Passione - April 19th & 20th 2008

We thought April Test Day at Silverstone last weekend was cold but it was nothing compared to Donington which was quite the coldest race meeting ever attended. Our Talbot Lago had its oil cooler blanked off for the first time in 50 years. It was the beastly wind again and yet in March we had basked in sunshine. Once again the RoadMap jackets given to TOPS members were very popular as they really did stop the wind.

This meeting is run for members of the HGPCA and the Masters Group. Personally I would prefer not to have the Masters there, as their cars and attitude do not blend with the HGPCA, but we cannot have that type of meeting without them so we are stuck with the 'us and them' situation.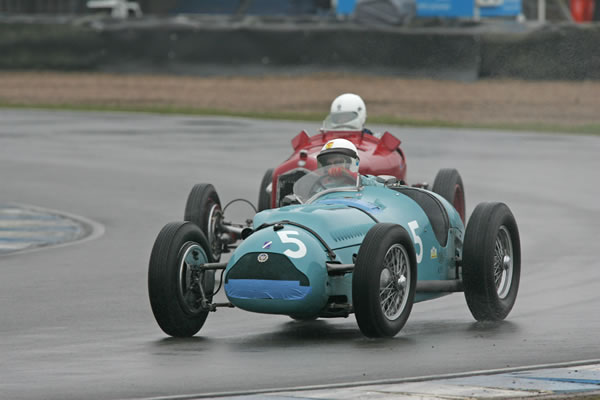 The races I watched were excellent and the driving standard better than last year! However the track was desperately slippery, not only from the kerosene from aircraft but also a fair bit of oil was put down again (is it the mechanics' fault or 'just one of those things'?) and, it rained. Richard Pilkington said the Grand Prix race was the slipperiest he had ever done - and that's saying something!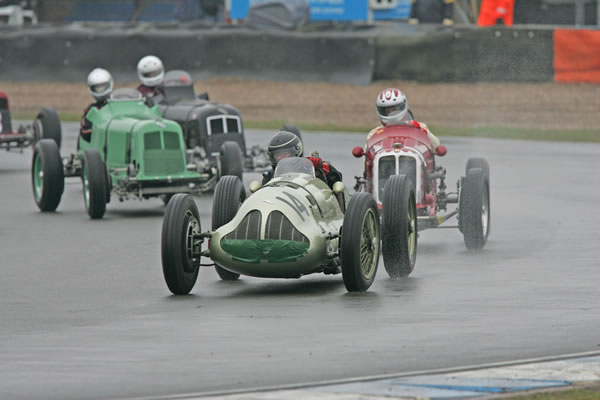 Poor David Morris in Mary Smith's Maserati smashed into the pit wall - he manfully admitted that it was his own fault, until a chicane marshal arrived with a ball-bearing which had popped out of the axle casing.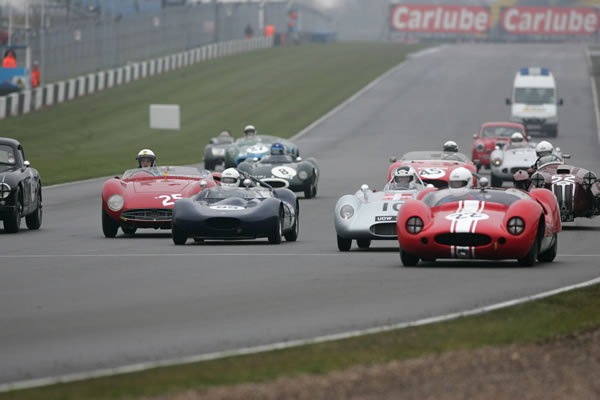 Michael Schryver and Chris Mann had a coming-together, various people spun, Eddie McGuire broke his gear-lever and Philip Walker and John Harper had selector problems.
A number of people failed to do their final race, possibly saving their cars for Historic Monaco, so perhaps the GPE date could have been better chosen.

The weather deterred the public which is very sad as the cars, displays and atmosphere were terrific.


P.G.P.