L'Age d'Or - Dijon June 2007

Dijon is always a popular circuit with its long sweeping curves suiting some of the older cars very well. And the City itself is spectacular. This year there was a music festival and the place was alive with impromtu jazz groups and dancing in the streets.
Patrick Quiniou, assisted by Eric Helaine are good organisers, always friendly, running the races pretty well to time and persuading people to park in the right places without any aggro. However the weather was poor, so unfair after the deluge of Pau but improvement was promised and duly arrived for Sunday.
The HGPCA had been demoted to only one race this year and it was fully subscribed with many reserves.
Flavien and Vanessa's new series ran over 50 cars - very spectacular! (You can run a far larger grid if the cars are closed). In total there were 491 entrants in 15 races and 36 TOPS Team cars.
70 Club marques had displays – a tradition from the Coupe de l'Age d'Or at Montlhéry which has moved here.
The Masters Series cars were not missed (they had been refused entry after the Pau incident).
According to the local newspaper the HGPCA race was won by J. Rod and they also showed a picture of the winning Alfa Romeo Monza of Peter Newmark and Simon Hope in the gravel at one point.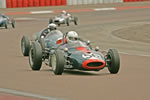 Once again there were too many spins and accidents - in nearly all the races.
Sid Hoole had his wallet stolen with all credit cards so he and Sue left early. Richard's pre-war Talbot was overheating, Erika had a disappointing race with her Gemini, which had just had an expensive engine overhaul, as it retired on lap 3. Several people had to return home as the terrible English weather had caused flooding and I can't remember what else happened!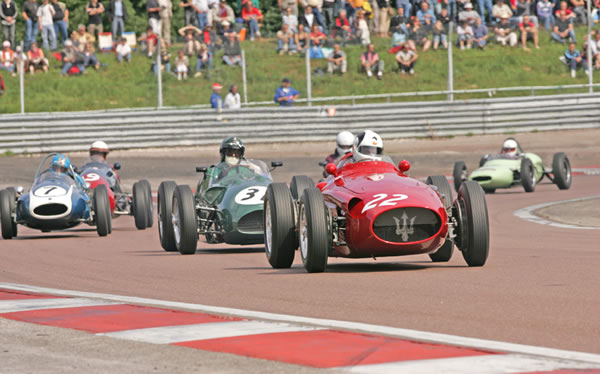 The HGPCA arranged a BBQ and the organisers a jazz evening.
An enjoyable event on a circuit which is not only good for the drivers but also for the spectators.