63 EMU - MONTE CARLO OR …………

Richard and Trisha Pilkington report on the drive in their Aston Martin DB3S via Lausanne to Monaco for the main support race of the F.1. Grand Prix in 1983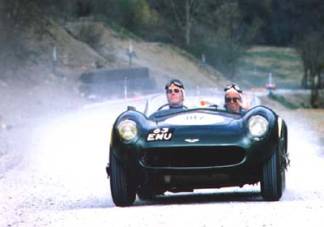 That maestro of organizers, Baron de Graffenried, arranged another of his fabulous events, at Lausanne in May. Richard and I were already due to be in Geneva and needed little persuasion to divert to the wonderful Beau Rivage Hotel overlooking the lake at Lausanne.
We were travelling in the Aston Martin DB3S7 (team car) and despite many efforts to pack long dress, dinner jacket, clothes for three weeks, crash helmet, tools etc. into black dustbin sacks to go into the bulge of the car doors, we finally resorted to the workshop where Richard found a new use for the cockpit brackets originally used for the Le Mans regulation hood. A 'suspended' luggage rack was devised fixed to chassis and cockpit - thus enabling transportation of necessities but failing to allow room for even one bottle of wine on our return journey - a previously unheard of failure.
2000 miles of ear deafening from the racing exhaust was not to be encouraged and so Richard made a road exhaust with long pipes under the tail - the racing system to be carried on the luxurious luggage rack. This adaption added to our comfort but also to our problems. Devon to Dover was OK but wet, wet. One inch ground clearance caused minor loading problems with Townsend Thoresen but they/we managed. However the French unloading officer successfully removed the whole of our exhaust system through sheer stupidity in his instructions. Undaunted and to their amazement, repairs were effected on the dock and we, somewhat delayed, set forth.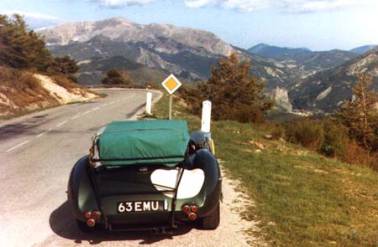 LAUSANNE:
We were wined and dined superbly and as our cars were on display, we were supplied with a taxi service of new Rolls Royces and a Bentley Mulsanne - not bad!
A miniature circuit had been laid out, including a piece of main road as The Straight (illegally, we understand!) and demonstration "races" were held of compatible types of car, where possible with old drivers who had been previously connected with that particular car.
Toulo de Graffenried was very impressive and noisy with the Alfa Romeo 159, René Dreyfus, making a rare appearance at this type of event, drove both the 4-wheel drive Bugatti and Neil Corner's Bugatti type 59. A star attraction was the Auto Union which Neil had running properly for the first time. Viloresi was in a Maserati, Van Hanstein in Porsche GP and Guidotti, Lurani and Sanesi all in various Alfa Romeos. The DB3S was the only Aston Martin present and temporarily divested of its pick-up conversion, took part in a parade of various vintage and sports cars. This we decided had not really been worth putting the racing exhaust on for, so we approached the organizers to run another race for Le Mans cars and this time we were really able to let it rip in company with a C type Jaguar and a couple of other cars.
Rob Walker ran his GP Delage, de Cesaris a F1 Alfa and Jean Sage one of Renault's turbo cars. Rico Steinemann had the Mercedes museum's W196. Sitting at lunch with Patrick Tambay and Olivier Gendebien proved an interesting insight to Ferrari tactics, old and new. Gendebien told us he still has his father's Bentley, bought new just before the war and hidden near their home in Belgium by building it into a woodpile in the forest. Alfa Romeo sent some so-called 'mechanics' with their car. They were mis-named and failed to run the P2 and damaged the 159, yet again, while removing it from the trailer. The P3 gradually succumbed to unsympathetic treatment during the afternoon and we all thought how sad it was to see such wonderful cars ruined by incompetence.
With plenty of time to get to Monaco, we opted for the scenic journey on the Route Napoleon, over the mountains, to the Mediterranean. The rough roads were very hard on our low tail pipes, and suddenly we had our first over-heating problem, which was to plague us for the rest of the trip.
MONACO:
This proved to be another paradise. We were greeted on arrival by some old friends with champagne, ice, bucket, and glasses - a wonderful way to begin another memorable event. (We were in the Historic race, the main support race for the F1 Grand Prix.)
<
Our cars were looked after in the Hall du Centenaire, beside the beach, allowing sunning, swimming, barbeques, etc., in between the serious business of practice and racing. The Aston decided to react to the wet conditions and managed wheelspin in top gear on the straight, and even a spin in practice without touching anything. Otherwise the car seemed quite well suited to the circuit and it was really good to have effective disc brakes after last year's drive in the brakeless GP Talbot Lago. The race started on a still damp track, with the Aston about half way down the grid but hoping to pick up places as the track dried. Unfortunately it soon became obvious that with the temperature gauges shooting round towards the end, it would be unwise to continue at the risk of damage - we also needed to drive home. A bit sad to retire to the pits but able to watch the closing stages of the race with Martin Morris winning from Stirling Moss.

Sir David Brown came over to say how pleased he was to see the Aston - he didn't seem to bother to look at any of the other cars!
The Grand Prix over, there were some more parties including the Gala Dinner for competitors, extra tickets at a horrendous price (!) ……….. and then we drove home through heavy downpours. Lack of windscreen wipers produced a certain amount of arm ache on the motorway to which we had sadly had to succumb because of the French bumps, our low slung exhaust and the radiator problem.
A most memorable trip - actually one of the best ever and we have been lucky to have had some very good ones.