Ollon-Villars - September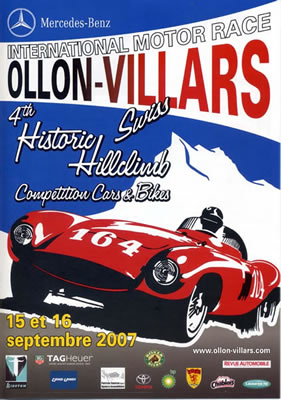 Ollon - Villars is one of those sort of events where one might say 'If you have to ask the question, you wouldn't understand the answer'. It is not timed, you have to slow down through a village half way up and there is no competitive element at all, hence no dreary prize giving. But to focus on that is to miss the point. The hill is 10 kms long and a great drive in stunning scenery - more safely observed on the slow run down!
There were about 200 participants from all over Europe with some interesting cars ranging from vintage to Group C Le Mans plus motorbikes and sidecars. There was even a 6 cylinder 8C Monza Alfa LHD which is unusual as well as a plastic D type made from an E type with a 3 litre turbocharged XK engine. ( it is fun being sniffy about other people's cars!)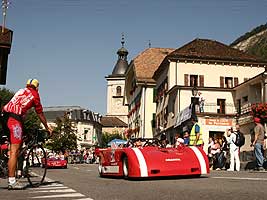 There was a strong TOPS team and some of us set off from Chateau Pilson to drive the 225 miles to Ollon on the Friday morning. Perfect weather with the faint scent of Castrol R hanging in the still morning air from Pilk's Talbot - why no one has bottled it for the right sort of woman to dab behind her ears for that special night out, I can't think. The procession of Pilk in his Talbot, 2 Frazer Nash Sebrings (Trisha and Jonathan Proctor) Le Mans Rep ( Ted Rollason) , H.W.M. (Alannah and me) with Spike Milligan bring up the rear in his Mk11 Jaguar all had a great drive with a good lunch stop just before the Swiss border.
Signing on and scrutineering was painless and we caught up with the rest of the team - Peter Mann, Barry Cannell and Nick Eden with lovely Alfas, Clive Robertson in Nick Eden's AC Ace, Donald Duncan with his scary looking 4wd Brabham and Ric Weiland with his rapid Lotus 24. Trisha had arranged for us to stay in 'La Renardiere' - a most civilised hotel in Villars with stuffed foxes all over the place so Alannah had something to relate to.
Friday evening was 'free' so we drifted off into the town to acquire our hangovers but Saturday evening was the Gala Dinner held in a restaurant well up the mountain that you get to on the rack railway which leaves on the dot. 7.30 means just that - not 7.29 or 7.31 but I don't think anyone missed it. ( Coach trips could learn from that).
In theory each car should get two runs up the hill on Saturday and Sunday. Sadly the afternoon runs on Saturday were stopped after some hooligan in a single seater - luckily a Swiss - ran over a spectator badly shattering both his legs. After the finish line there is a chicane to slow people down before the High Street and somehow this man lost it after the chicane and hit a hapless spectator who was minding his own business on the pavement. Most unfortunate.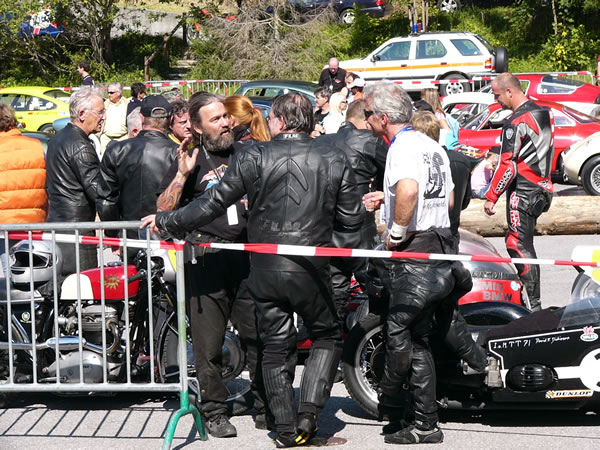 Sunday went pretty much according to plan though I managed to misjudge things. Overtaking is allowed but the road is narrow. In the queue to the start, a very smart Chevron B16 came up behind me so I waved him past not wanting him up my chuff and expecting him to leave me for dead after the start. I caught him after 400 yards and was stuck behind him all the way up - couldn't believe it as I was not really going for it. Clearly some of the drivers hadn't a clue and had not driven the cars before which seemed daft, as a hill like that, where you need a parachute in some places if you go off, is tricky enough on its own without trying the 'learn' the car as well.
Another little excitement was a new showroom in Villars specialising in totally restored classic cars that are apparently rebuilt in Hungary. They looked very smart, though a little like 'a tart's bathroom' but I was appalled to see that the cam covers and carbs on an E type had been chromed. Then I spotted an XK140 with proper original sandcast SUs - and they had also been chromed. A hanging offence in my view.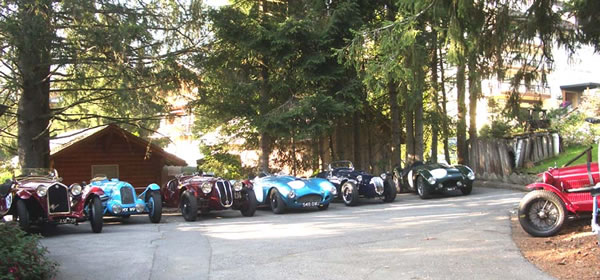 Following a proper TOPS dinner in the hotel on Sunday evening, we departed on Monday morning feeling surprisingly bright eyed which must be a combination of Swiss mountain air and Swiss wine.
A lovely drive back to Chateau Pilson by a different route, again in perfect weather with just a bit of rain right at the end.
A very good jolly which we certainly enjoyed. I hadn't driven HWM 1 properly on the road for quite a long time and had forgotten what a great car she is.