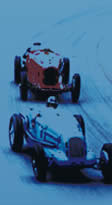 TOPS NEWS November 2006
According to Norwich Union, Sheffield is Britain's car crime capital, followed by Hull, Leeds and Middlesborough. The Ford Orion is the most frequently stolen older car.
2 police patrol cars, a transit van, 3 police motorcycles and 3 tow trucks turned up at Liam O'Connor's house in Birmingham because his £600 Rover was untaxed. The car was removed until the tax was paid. A Police spokesman said: "It was a DVLA operation to target untaxed vehicles."
The driving age could rise to 18 to make roads safer, with drivers forced to take lessons for a year before taking their test. The proposals are made by the Association of British Insurers. Young men aged 17-20 account for just 3% of the country's driving population, but, 33% of convictions for dangerous driving, including causing death and bodily harm. Each year 50,000 17-year-olds in the UK pass their driving test with less than 6 months driving experience.
Dangerous drivers who pay expensive lawyers to use loopholes in the law to escape conviction are to be targeted by police.
A Dutch scientist has been encouraging young people to drink and drive - on a race track. They drink alcohol until they reach the drink-drive limit then they go on to the track, attempt a slalom course, parking and an emergency stop. Young people who took the alcohol test were 6 times less likely to be later caught for drink driving.
Cattle grids should replace speed humps says the RAC Foundation which wishes to restore character to villages.
Ford has bought the rights to the iconic Rover car marque, leaving China's Shanghai Automotive Industry Corporation with a branding headache.
The consortium ATI which thought they had the rights to run the Mille Miglia next year have lost to the original organisers Marvi srl. They intend to appeal to the Council of State in Rome.
Motoring groups have questioned the value of speed cameras after police figures revealed that only 5% of drivers who crashed were breaking the speed limit.
Tyre Genics of South Wales is to recycle car tyres to produce artificial sports fields. They expect to re-use 30,000 tonnes of used tyres next year.
A policeman was sent 20 miles from Newquay to St. Agnes in Cornwall, to tell a woman to move her dustbin from the parking space outside her house.
Christie's is opening a new office in Paris devoted entirely to car sales.
The MG TD 2000 has a 130hp 2-litre Toyota DOHC engine, 5-speed gearbox, low profile tyres and disc brakes all round. The car is made in Kuala Lumpur and sells in the UK from £23,499.
The EU has published a Consultation Paper on the use of daytime running lights for all vehicles. It is hoped that historic vehicles will be excluded.
Signs on the A3 near New Malden are rather confusing. There are 43 signs per mile on a 7-mile stretch of the B3006.
Motorists paid more than £44 billion in taxes last year but only £7 billion was spent on roads, says the Road Users Alliance.
Mr. Bond, the ex police Chief Superintendent in charge of speed cameras in Warwickshire has said that cameras bring money in bucketfuls. The treasury just can't lose….it's all a scam. He also said that the police are waiting for approval from the DoT for a camera which can trap motorists from a mile away.
Despite Cardiff Council offering a car collection service for unwanted cars, hundreds are still dumped, many are vandalized and set on fire, costing the fire service £4500 each time.
A man who wanted to pay his fine for careless driving with 4000 1p pieces has been banned from doing so.
Aberdeen has become a 20mph zone for all traffic.
A motorist is seeking compensation after council officials towed away and crushed his car which they thought had been abandoned despite it being registered as off the road (SORN) and parked in a private residents' car park.
Barnet Council lost a parking ticket case in the High Court because the ticket needed 2 dates to be valid - a date of contravention and a date of issue. Refunds are due to anyone who still has their paperwork.
The Tour de France, will start in London on July 7. It will cost the city $2.8m and generate $216m of benefits assuming a 4500-strong entourage and a 95% occupancy rate for hotel beds in the Capital plus a conservative estimate of two million fans who will turn up for the two days of racing.
The DaimlerChrysler Group has opened a new "brand experience centre" at Brooklands. The 155-acre Mercedes-Benz World offers a 1.5-mile road course and a 10-acre off-road area. There is an 'interactive world' to show the passion, heritage, values and innovation of the Mercedes-Benz brand. The venue is expecting 300,000 people p.a.
A nationwide survey for Channel 4 News has found that many busy roads in the capital raise more than £1m a year in parking fines. Lordship Lane in Tottenham, North London, raised more than £3.18m in fines in 2004/05 with Newington Green Road, Islington, £1m and Vine Street in Uxbridge £1.91m. The survey has caused fury among motoring groups who have accused local authorities of using the motorist as a 'cash cow'.

The Home Office has admitted that drivers can avoid being caught by hi-tech 'SPECS' cameras which calculate a car's average speed over a long distance by changing lanes. Prosecutions are only valid if a driver is filmed in the same lane at the start and finish of each section by a linked pair of cameras.
Under new government rules, speed limits will in future be set on the basis of mean (average) vehicle speeds. Of the 18 police organisations which responded to the consultation, 11 opposed the change to mean speeds, with only 5 in favour. Despite the opposition, the government seems to have decided to go ahead with the change. Research showed that only 1 in 20 road accidents was caused by speeding.
Michelin is launching an HGV tyre which self-regenerates two thirds of the way through its life. Called XDN 2 Grip, it is capable of "self-regenerating" after 93,000 miles, its special structures enable it to regain a new tread once the first one is worn. "Raindrop" sipes are buried at the centre of the rubber layer. When the tyre is two thirds worn, the sipes gradually open to show new grooves contained within the rubber.
JC Decaux and Clear Channel, the world's two biggest outdoor advertising groups, are in a legal battle to supply Paris with 6,600 bicycles under a city council plan to reduce pollution and heart disease. The contract includes control of the city's 2,000 advertising hoardings generating £20m p.a. JCD is now trying to buy CC.
Bahrain-based Investcorp has put APCOA up for sale at £467m. It is Europe's third-largest car park operator and supplies traffic wardens to local authorities. Australian investment bank Macquarie is said to be interested. They bought Thames Water and last year tried to buy the London Stock Exchange.
The MSA issued 9,696 racing licences in 2005.
A deaf and blind man who doesn't drive has received a £60 speeding ticket.
The attendant of a car park near the Snowdon Mountain Railway, who is supposed to charge £4 for an all-day ticket, is charging £2 if drivers speak Welsh. The Commission for Racial Equality is looking into the matter.
Nigel Mansell's plans for development of Kart racing at the airfield at Dunkerswell, Devon, have been refused.
6 million motoring fines were issued in London in the year to April 2006, up 4% on the previous year.
The Government has plans for drivers to pay for every mile driven at peak times or on traffic pinch points.
The DVLA profit figure for last year of £6.36 million from selling drivers' details to commercial organisations.
Bernie Ecclestone has suggested that from 2010 the British and French Grands Prix alternate. The BRDC does not think it would be financially viable.