TOPS TOUR - SWITZERLAND
(This followed the Ollon-Villars hill climb)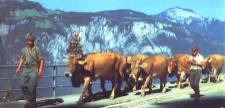 After a succession of wet-dry-wet days we were warned of snow. Monday dawned to a serious dump of 3-4 inches and still snowing!! ideal open car touring conditions…….....and for goodness sake, this was September!
Team TOPS were Trisha and Richard in their Frazer Nash, Jane and Alex Boswell also in a Frazer Nash, Nick Rossi in his C type Jag, Leslie and John Guyatt in a road going Talbot, Candy and Bertie Gilbart-Smith in their AC, John Venables-Llewelyn and correspondent in the Type 35 Bugatti and, bringing up a much appreciated rear, Alannah and Kirk Rylands' Range Rover offering a warm dry space for luggage, spare overalls, beers etc.
We left Martin Morris and Bill Tucker at the Park hotel in Villars, heads down in the inner workings of the Scimitar repairing the thermostat or whatever, to follow us when mobile...The Pilks led the way, smugly with their hood up!..onwards and upwards...
We were to have gone over the Col du Pillon (5101 ft) but it was closed so we missed the Gstaad to Châteaux-d-Oex loop. Wet snow was coming at you from every angle, over, under, sideways and down, it was fairly grim going and sadly the falling snow restricted the view...by now the wet snow had filtered through to various parts!
Several times we were stopped by groups of cattle being brought down from them hills, they seemed to regard us with a bemused indifference as they clanged their way through and around us, some I noticed had much more elaborate and decorative bells than others which made me wonder what a cow has to do to get the 'Posh' bell, 'long service with good behaviour, or just ' biggest milk yield'?...I digress...After tantalisingly driving past a local market (a serious offence in any language! especially as most of the stalls seemed to be selling thick dry layers of clothing!!) we turned up a narrow route to finally stop at Chalet Kreuz, a welcome sight looking just like a giant cuckoo clock in what I am sure must have been a spectacular position.

Inside we peeled off wet layers and were greeted with hot gluwien.….what followed was a delicious and very jolly lunch, spätzli, fondue etc. and copious quantities of wine, while our clothing steamed gently over the stove. Dry and warm, we set off, having discovered the heavy duty bin liner, opened at both ends and worn round the middle like a tight skirt stopped the damp seeping through the gaps in the wet weather gear! I must say I feel a new fashion item emerging, watch this space for colour variations and perhaps with TOPS or other sponsorship logos. There is a slight mobility restriction on getting in or out of a Grand Prix Bugatti but practice and a few modifications should sort these out... The snow began to ease and as we reached Lake Thun at Spiez it was clear. We rounded the south side of the lake and then on to Interlaken.
That afternoon we were to have gone over the Susten Pass (7296 ft.) but as it was closed, luckily Trisha had planned an alternative route just in case! We went north toward Lake Luzern. After losing the Talbot which ran out of fuel and the Range Rover which was heading for the Pass not having seen the closure signs, we all met up again for a coffee and a cognac. (Dreaded mobile phones do have some use!) To make up time we headed for the ferry to cross the lake, the Boswells took the road around the lake, arriving before us. To me the ferry was a very peaceful form of transport after some 3-4 hours in an open GP car in a tight plastic skirt! The Hotel Albana in Weggis was family run with large palatial rooms and wide staircases as if from a time gone by. After a hot bath, hair wash and dry clothes we had a delicious meal and somehow managed to forgo the after dinner paper aeroplane displays of the previous few nights!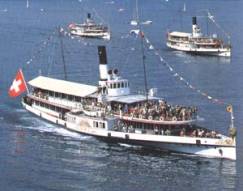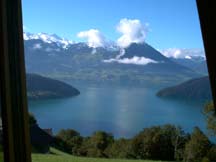 Tuesday and we woke to a crisp clear day, with magnificent views of the mountains that we should have come through the day before. By now Martin and Bill had joined us and we were to have a day without cars. The first treat was the paddle steamer 'Uri' along the lake to Vitznau from where we were to catch the 10.15 train up the mountain. We had great difficulty in extracting several members of the team who would have happily spent all day down in the engine room paddling round and round the lake. Trisha had reserved an 'old style' coach just for TOPS and we were pushed up the rack in front of the small train. This is the oldest track railway in Switzerland, built in 1871. We climbed through the snow line to the top of the Rigi mountain (5900 ft) and in brilliant sunshine walked on up to the observation area to take in the view - breathtaking in more ways than one!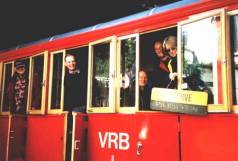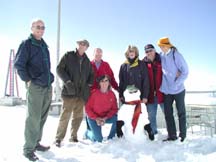 More gluwein whilst waiting for the train to take us down a stop to lunch, needless to say the juvenile amongst us reverted to snowballing and the construction of a rather handsome TOPS snowman. After lunch the party split up, John Guyatt opted for the cable car down, the main group went back down on the train and spent the afternoon being indulged by the work force in the train workshops. A small energetic faction walked down the winding mountain track with waterfalls and caves in abundance. We arrived back at the paddle steamer station whence we had started, to find Kirk dozing on the jetty in the sunshine listening to a string quartet playing for the outdoor Tea Dance.
A truly wonderful day - Another noisy dinner and a drinks bill that I am sure must be funding the Swiss National Guard!
Wednesday and after saying our goodbyes to Martin and Bill, off to catch an earlier ferry home, we leave the lake and it's bright blue water, greener than green fields and the neatly placed 'cuckoo clock' houses to climb again. At Andermatt we head west to the Furkapass (7975 ft) and on to the Grimselpass (7103 ft) another coffee and cognac stop on the top. On leaving, Nick Rossi and the C Type are suddenly surrounded by a swarm of school children who appear from nowhere in this barren spot! Then the long drive down through spectacular scenery and even more spectacular winding bends in the road!! (This passenger found it more scary going down than up - 'I hope the brakes work?'...'What brakes.' !)
The lunch stop was a large hostelry at Guttanen, reassuringly full of local workman...another huge plate of cholesterol, delicious! John and Leslie part company with us as they have to dash back to the UK for Friday morning. The afternoon run is a pleasant route north of the lake this time back to Interlaken, just before this we spot a second-hand shop - Rylands is reluctant to stop, but once persuaded is lost like a child in a toy factory! Amongst the tat (foreign tat is so much more interesting than our own!) there are some real good finds, ridiculously cheap in comparison to the cost of food and drink...if we could have got the two cupboards and the wooden luggage trolley into the Range Rover we would have.
Onward for Wengen and Murren to spend the night in a typical wooden chalet hotel in the valley below at Lauterbrunnen, a very pretty picturesque alpine village. We leave the Bugatti to deposit yet more oil in the hotel car park (at lunch someone had placed a piece of cardboard underneath!). The evening is spent eating good food, drinking good wine in great company...inspite of The Plant Incident .... .... (Censored – Ed)
Thursday the Boswells leave early to be in Dijon by midday for some group 4 racing at the weekend; the Gilbart-Smiths leave to make their own route home; the splendid idea of lunching at the revolving restaurant, Piz Gloria in the James Bond film, on the top of the Shilthorn (9744 ft) is abandoned due to lack of visibility and cost (£30 for the cable car!), the Pilkingtons and Rossi visit the caves of indoor waterfalls. The Bugatti and the Rylands set off back to Villars to pick up trailers, which took us via Gstaad and over the Col du Pillon, missed on the first day due to the snow, it was a beautiful run and most of the snow had disappeared. With the help of mobile phones we all meet up again at a very swish venue at Vézelay near Avallon in France. The hotel has a very interesting interior decor (a bit Lawrence Llewelyn-Bowen!!! No Relation)
Friday we have time to spare so we take a cross country route with a noticeable lack of Broquant shops!.. We split, for the trailers to motorway it, and the tourers to take a more scenic route to Le Havre - just enough time to meet up, after a Rylands trailer puncture in the rush hour traffic which produced a crowd of little perishers swarming over and in the HWM, for yet more gourmet food before a night-cap on the ferry. Another very enjoyable TOPS Tour.
CIA