VERNASCA SILVER FLAG - Hill climb - 2008

The whole trip was brilliantly organised by a wonderfully patient Trisha (Pilkington) and several of us met up at their farm in Montbard. Here we swapped anecdotes over an excellent dinner and were treated to eye popping accounts of Mrs P. in her leather mini skirt – which daughter Nicky could not believe - the oldies could never worn things like that! (Any pix Trisha?!)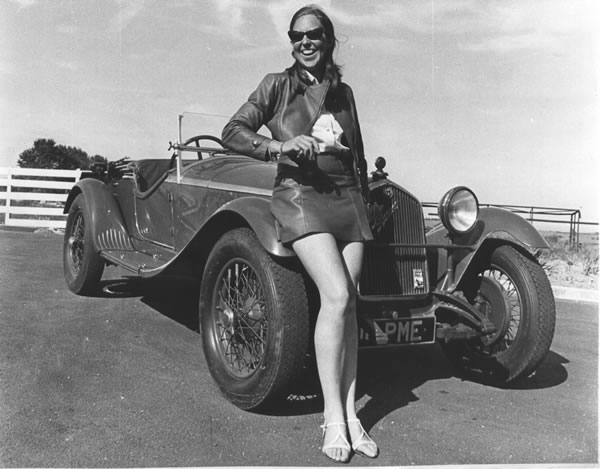 The next morning our lowly 250SL was somewhat overshadowed by the TOPS impressive cavalcade of Pilkington's Maserati 300s; the Parr BMW 328, the Rylands' Bentley 3/4½ ; the Llewelyn's Jaguar C and the Guyatt Talbot Lago T150c… but Nicky and I kept a low profile and simply basked in the reflected glory, and just kept our foot down all the way to our next overnighter at Aosta. A glorious scenic drive over the Grand Saint Bernard mountain pass where JVL's C type decided to stop before the top and was towed up by a road maintenance truck to join the waiting gang.
From there it was down hill and the car behaved. We reached Vernasca the next day in time for tea and registration with Club Piacentino and Claudio's indomitable team of organisers. Having collected our bags of goodies, numbers and invaluable hospitality tickets, Nicky and I were pretty apprehensive to discover we were to be second off the grid after the old Alfa Romeo Police car and I knew after the last 2 years that chances of an early night with this crew were remote…. Lots of camaraderie in the car park – Claudio had optimistically given TOPS a specific area to park in, but that was soon fought over by various other participants. TOPS stickers were enthusiastically inspected and in some cases stuck over the race numbers… line ups were discussed and Nicky and I wandered around admiring the superb array of old cars, revelled in the bonhomie and tried to look knowledgeable when overhearing such remarks as 'detachable lids on regulators… ' just as well the little Nash has 2 regulators'… etc.
Up very early the next day, having survived the first floodlit dinner at top of the old town – everyone had made it back to the hotel despite the Rylands' Bentley deciding it would be better for them to return without headlights .. 'ok on the straights but a bit hairy on the 90 degree bends!' Checked the car over, put the hood down and got to the start line, hug and good wishes from Claudio and we were off . Definitely not the fastest but thanks to instructions and cries of 'faster Mummy' from Nicky, we were not disgraced and got to the top of the climb in one piece with a large grin on our faces! Bryn Williams' lovely 250 SWB gave some grief, after all the effort of getting it there, first of all the bonnet catch wouldn't 'catch' then having caught, the fuel pump (£30.00 item ..?) failed. Chris Wilson and Donald Duncan's M1 McLarens (the 'hooligan element…!') nicely counteracted Carolyn Venables-Llewellyn in her splendid 1922 Amilcar that showed 'a little temperament' – only to be expected of an 82 year old, but then sailed up the hill in great style.
Saturday night was the superb Gala dinner in Castell'Aquato's 14th century square, a seemingly endless succession of succulent courses washed down with liberal quantities of wine (if only Nicky could drive….!) This is a REALLY special occasion and I think we all felt flattered to have been included. Michael Parr had been joined by his daughter Sirina who by this time who had put herself well and truly into dad's good books by losing ALL the Parr meal vouchers on day 1, causing the ever pleasant (but not unflappable!) Claudio and his super-helpful assistants to tear their hair out… The hotel car park proved to be a danger for some – having missed the 'beware granny's reversing ' sign, the Pilks' 300S had a deep furrow dug up the centre of the bonnet .. on being asked about the occurrence granny explained that to get out of the yard she always reversed until she hit something at which point she knew she should stop and go forwards … don't think Richard was impressed…
Gareth Williams' Lotus 41 was punted by a Chevron B15 damaging the steering arm. No-one felt sorry to see the Chevron in a hay bale with all wheels pointing in different directions. Silly prat. At the prize giving and farewell lunch on the Sunday, Carolyn was awarded a much deserved and very smart prize as the organisers clearly admired her panache, and we all ate copious amounts of very tasty pasta and tried to avoid the wine prior to our trip back home - except for Richard P who went down with severe food poisoning which lasted 5 days and to make matters worse, had a puncture on the 300S on the motorway in the searing mid-day sun.
. As we were leaving, the weather – up 'til then bright sunshine and blue skies, as ordered for all the Silver Flags, threatened to change and large raindrops started to fall. Nicky and I decided not to be wimps and foolishly kept the hood down far too long down the Italian motorway, with what seemed like most of Italy trying to drown us as they passed at great speed – we at least had the option of putting up our hood eventually, at a filling station .. Clive and Munro, however had no such option and were believed drowned at one point as their lovely but wet motorway unfriendly ACE quickly filled up with rain water ..! Next year more TOPS members should come along – it is a superb weekend… Thank you Trisha.

The TOPS Team consisted of: Bryn Williams 250 SWB, Isabelle Mathews 250 SL, Clive Robertson Ace, Ted Rollason Frazer Nash LM, John Venables-Llewelyn Jaguar C, Richard and Trisha Pilkington 300S, David Ham Lister Jaguar, Chris Wilson McLaren, Donald Duncan McLaren, Gareth Williams Lotus 41, Michael Parr BMW 328, John Guyatt Talbot Lago, Michael Steele Bentley, Kirk Rylands Bentley, Carolyn V-LL Amilcar.

I.M.